Sponsored Events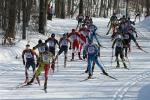 SWIX Boulder Mountain Tour
The Boulder Mountain Tour is one of the longest running XC ski races in North America. The 32 kilometer race runs from Galena Lodge to the Sawtooth National Recreation Headquarters, just north of Ketchum, Idaho. Over 1000 racers and participants ski the BMT every year enjoying its gentle course profile and majestic views of the Boulder Mountains.

Yellowstone Ski Festival
For over 29 years, cross country skiers from across North America and around the world have traveled to West Yellowstone, Montana's Yellowstone Ski Festival to begin their Nordic ski season on the Rendezvous Ski Trails. Traditionally, the Yellowstone Ski Festival takes place during Thanksgiving week and this year will be no different. The dates for this year's Yellowstone Ski Festival are November 25, 26, 27, 28 and 29, 2008. The event's highlights include a series of Nordic skiing clinics, the SuperTour races, the Try It and Buy It Gear Demo (the largest public gear demo of its type) and an Indoor Ski Show. Whether you are a beginning skier or an experienced racer, West Yellowstone is THE place to start your ski season. Last year, over 2300 skiers from around the United States and Canada were in West Yellowstone for the Yellowstone Ski Festival. Where else can you participate in ski clinics coached by former Olympic athletes and lifelong Nordic skiers, try out and purchase the latest ski gear and accessories, and share the Rendezvous Trails with so many great skiers? The Yellowstone Ski Festival offers all of that and more!
©2007 Swix Racing. All rights reserved.